Support for Learning
For the attention of parents/ carers of learners with literacy difficulties/ dyslexia.
Dyslexia Scotland have put together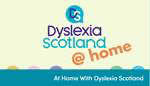 Here you can find a number of videos to support learning at home. Below is a link to a particularly good one – 'Parent masterclass 2 – Providing support at home'
This video gives a lot of advice around how to motivate children and give them activities that keep then learning.
A list of apps designed to support our EAL learners

Powerful assistive tools are built into Ipads to support your vision, physical and motor, hearing and learning needs. Learn how to set up these features and set up shortcuts for easy access wit the following link:
https://support.apple.com/en-gb/guide/ipad/ipad9a2465f9/ipados
Improve Reading & Writing – Microsoft Education
Learning Tools use a set of free features that enable every student to improve writing, reading comprehension, and reading speed. Learning Tools are available in the products classrooms already use. Enable learners regardless of age or ability with easy to use features that reduce visual crowding …
Additional Support for Learning Service Edinburgh – YouTube
YouTube channel created by ASL Services to help parents/carers with accessibility features on Ipads. These videos will help support pupils with writing, reading and translation.