As we enter October and with only 10 working days until the October half term holiday, we begin to move further into courses / learning / tasks. The weeks begin to flow quickly towards the winter and it's important we all have a good / positive mindset and do the simple things well;
-Attend all lessons
-Be smart and ready for work (uniform)
-Ask questions and get support where you need it, that's our job to help you!
-Access the great revision sessions and lunch / after school clubs on offer every week
Some key points;
Covid – We are running low on Face coverings, no doubt there are plenty at home as we all have collected them over the last 18months. Please check at home and ensure a covering is worn when arriving to school as per Government expectation.
Hand san, adult : pupil distance, wipe downs, one ways, use of outdoor exits and break / lunch outdoors where possible all remain to help keep transmission low.
Public Health message – We have been asked to share the following message from Public Health / NHS;
West Lothian College, Livingston on Thurs 30th Sept and Fri 1st Oct (11am – 5pm) – open to 12-15 years
Fort Kinnaird, Edinburgh on Sat 2nd and Sun 3rd Oct (11am – 6pm) – for 12-15 years only
Reports – Our first reporting window is complete with reports going home this week by email. We hope this prompts supportive discussions and positive next steps at home and with school. We also, at times, issue our 'Cause for Concern' letter by email. Though the name may seem alarmist(!), it is simply designed to be an early, proactive contact with home to trigger some positive conversations and next steps to help support. We would far rather do this earlier rather than later if it helps a youngster improve their outcomes.
How to Pass National Qualifications Eve – This was held last night with Parents attending. We will make the recording available to watch once we have it ready. We hope the session was/is useful and helpful to Families in helping youngsters achieve their goals!
Mental Health at Leith – See below an update from our Mental Health working group;
World Mental Health Day is on Sunday the 10th of October. In order to raise awareness of the support in and around the school for mental health we will hold a Mental Health Awareness day at Leith Academy on Friday the 8th of October.
On this day pupils will be allowed to dress down but preferably wear something yellow to show their support of mental wellbeing. Pupils can donate up to £1 on our parent pay system to support Mental Wellbeing at Leith Academy. All proceeds will go into our Mental Wellbeing school fund so that our pupil Mental Wellbeing group can have a budget to make changes which will directly affect the pupils at Leith Academy. https://app.parentpay.com/public/client/security/#/login
On Friday the 8th of October we will also be launching our new 'Mental Wellbeing Pupil Group' (this requires a more 'catchy' name that the pupils can decide!). If your child is interested in making a difference to the mental wellbeing of their fellow pupils they can sign up to join this pupil working group and plan how we can best do this. Sign up forms will be displayed via QR code during their Key Adult session on Friday 8th of October.
Thank you for your support and if you have any suggestions on how we can continue to strive improve mental well-being at Leith Academy please do get in touch via admin@leith.edin.sch.uk .
Mental Health blog – One of our previous Leith Academy pupils has put together an info graphic blog working with Young Scot to help young people develop strategies to help with aspects, such as loneliness. We thought this was a great achievement and wanted to share her work, the link is here https://young.scot/get-informed/national/8-top-tips-for-tackling-loneliness .
Sustainability National Competition – See below photos taken at the Hydrogen Fuel Cell Challenge we hosted this week. Feedback from the workshops has been really positive! We will hear news about the next stage and the regional finals from the organisers soon. Well done to Science for facilitating.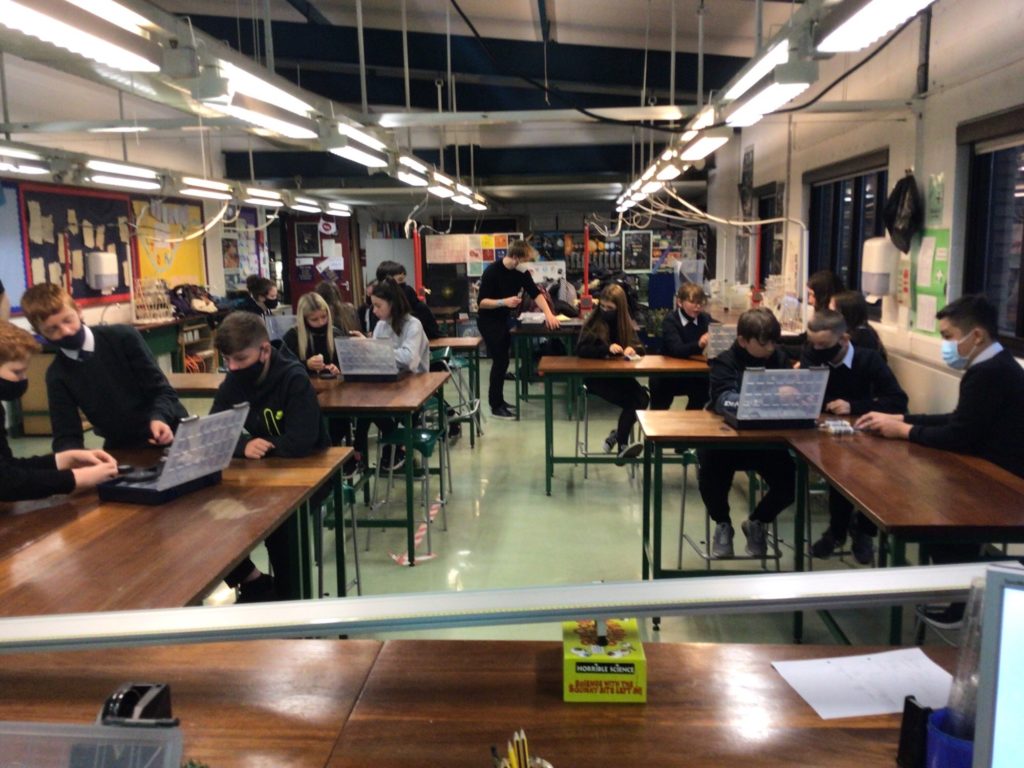 We hope you have a nice weekend.