A busy week and especially today with our service to remember those who have fallen in conflict then a fantastic guest speaker in the afternoon. Some updates below;
Remembrance – We held our annual ceremony in memory of conflicts across the world. The service content and themes are co-created by our School Chaplin Rev May and our S6 Prefects who were instrumental in ensuring we had a service which was commemorative on several diverse fronts. This year the theme was 'Those left behind'.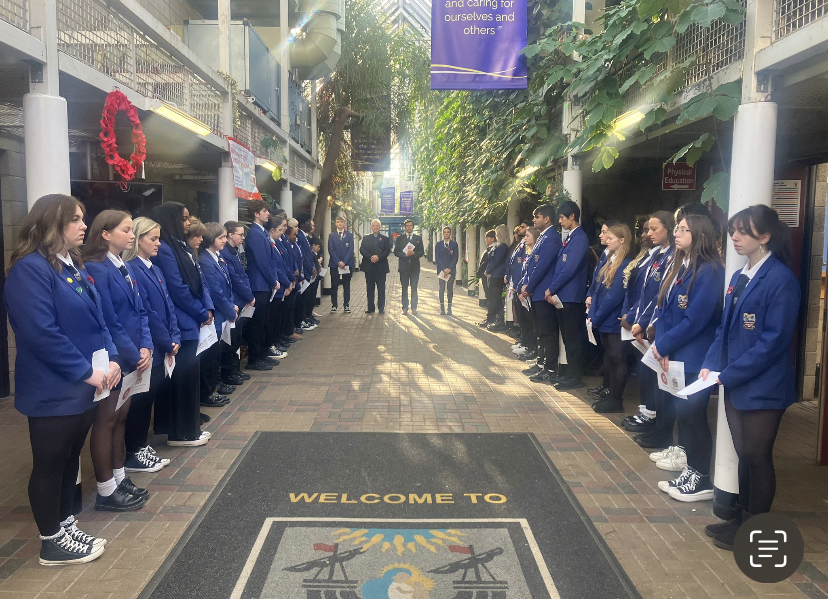 Graeme Armstrong – We were pleased to welcome Graeme to Leith this afternoon. Graeme is the author of a book called the Young Team and is currently leading a BBC documentary BBC iPlayer – Street Gangs – Series 1: Episode 1 – Audio Described aimed at trying to help communities understand and support young people who find themselves in challenging situations. Our staff session today was powerful and one which echoed our commitment to support the young people of Leith in our work.
S3 Tracking Report 1 – We have issued these to Families. They provide a starting for discussion at home around what is going well and what needs improved. If you have any questions or want to speak to a member of staff about any aspects of the report email Admin@leith.edin.sch.uk .
These reports play an important part in S4 subject choices for our S3 pupils in the new year.
P7 into S1 Parent info session – We had a huge turnout for this event on Tuesday evening which provided families with an interactive tour of the school and depts. Staff and our Pupil Prefect Team provided a really positive experience for our new S1 group who we will see more of in the coming months before August 2024.
Parents' Eve – We welcome our Parents / Families on Thursday 16th evening for the Cowan and Port Parents' eve in person. This is a great opportunity to reflect on the recent tracking report 1 and have conversations with staff around what is going well and what the next steps should be. Booking details have been emailed but if you have get in touch via Admin@leith.edin.sch.uk and we will help.
Have a nice weekend from all at Leith Academy.