Industrial Action / Strike – Colleagues from the SSTA Union are potentially on strike next Thursday 8th Dec. Each School has a differing number of colleagues in each Union, at Leith, the majority of our Teaching staff are SSTA. There will be some finer details early next week, but for now the key points to Parents are;
-Given the number of Teachers involved and following a CEC risk assessment, Leith Academy will move to an online learning position next Thursday for all pupils.
-All pupils should check on their Teams pages for learning being delivered by 'non-striking' colleagues.
-School will be closed for the day but there will be an update early next week for families who recieve free school meals.
-Prelims on Thursday. Discussions are ongoing, we will update those involved early next week.
-School will open as normal on Friday 9th December
Mid year assessments / Prelims – These are now half way through and the young people / staff and invigilation teams have worked well together to provide an environment that balances challenge and support. The next steps after each assessment will be key for youngsters and families as they take stock and plan next steps towards Easter 2023 and to achieving their best outcomes..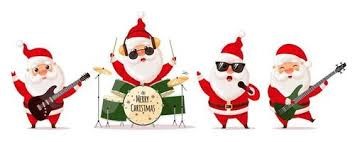 LEITH ACADEMY CHRISTMAS CONCERT 2022 –The Christmas Concert will take place on the 14th of December at 7pm, in the Games Hall this will be the first live Leith Academy Christmas Concert since 2019! It's gonna be a special night with lots of spectacular performances from our pupils and the chance to see our new staff band in action! Get your tickets (£4) via Parent Pay from Monday the 5th of December!
It's gonna be a night to remember! We hope to see you and your families there!
Creative Arts Team!
Family Engagement Event – 30th November – On Wednesday night we had our first family engagement event. The evening started with refreshments in the Art Department and the opportunity to pick up some literacy and numeracy resources, some recipe books for cooking on a budget and a cookbook designed and produced by pupils. We then moved through to the Design and Technology department, where parents, pupils and staff had great fun designing Christmas presents – making their own grey slate coasters and keyrings using the 3D printing machine.
Cooking was next on the agenda, led by our Home Economics staff, where we made lentil and minestrone soup – lots of great ideas and produce were available to take home. A great evening, one we hope to run again.
Alison Fair & Kirsty Gunston
Parent views on the future of Education – The Scottish Govt is keen to hear the views of Parents and young people on what Education may look like post pandemic and into the future. The deadline is Dec 5th, the link to put forward your views can be found here National Discussion Scottish Education – Scottish Government – Citizen Space (consult.gov.scot) .
Careers Bulletin – Our latest updates from our Careers support team can be found here.
Have a great weekend as we enter December.