It was good to be back following the half term break as we enter a busy time of year in schools across the country.
Key points;
S4/5/6 Online Parents' Eve – Families in Anderson House and Barton House will have their Parents' eve next week (Tuesday 1st Nov). Emails will be sent to Families to book slots with Teachers. If you have any questions or feedback please email us on Admin@leith.edin.sch.uk and we will look to support. As ever, all dates can be found on our Parent Friendly calendar version here Calendar – (leithacademy.uk) .
Cost of the School day – We are currently evaluating the cost of the school day. As a school, we want to help support our families in the wider sense, particularly during these challenging times, where the cost of living has increased for us all. We would be grateful if you could spend five minutes filling out this survey, which will help us with our support going forward Parent Equity Feedback .
Microsoft Teams contact – We continue to use Microsoft Teams with varied classes if the nature of the subject allows and the ability to dual provide work (in person and virtual) is useful and proportionate. Teams pages are class / pupil areas for discussion, questions and sharing of content. If Parents have any questions please go through our Admin@Leith.edin.sch.uk email address as opposed to the Teams page (as this is open and be seen by all). With thanks.
The Future of Scotland's Education – The Cabinet Secretary for Education is engaging in some potential, significant change to our education system following the lesson learned from the pandemic disruption. Staff, Parents and Young People are asked to put forward their views, see attached a letter with relevant links. Deadline is Dec 5th 2022.
Parents – Skills Development Scotland are delivering a national webinar for parents and carers of secondary pupils on Understanding options available after school, taking place on Thursday the 10th of November at 6.30pm. This session aims to give parents and carers information about the options available to young people when they leave secondary school, as well as an introduction to resources and support available from Skills Development Scotland.
Register here: https://Understandingoptionsavailableafterschool.eventbrite.co.uk
Fire Safety – We have been asked to share this sensible, self explanatory poster from Police Scotland and Fire Scotland which should aid discussion at home where required.
Activities – This week……we had our Seniors out at the Water of Leith on Geography Fieldwork, 30 S3's at First Minister's questions in the Holyrood Chamber and a super / busy day of awareness raising with SHOW RACISM THE RED CARD today led by Mr Moffat and our young leaders!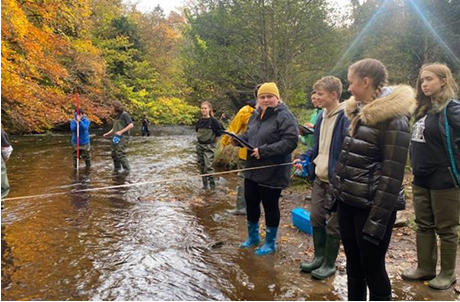 Have a fun and safe Halloween as we enter November next week, from all at Leith Academy.