Some key points from this week as we enter September;
Letter from the Council – Please see attached.
Parent Council – We had a positive turn out at Parent Council this week where we covered a range of themes and exciting opportunities around the area of fundraising. If you would like to be part of the PC simply email Leithparentcouncil@gmail.com .
S1 iPad rollout – We are now finalising our iPad stock in order to distribute this fantastic learning aid to all S1's. Our Digital Team at School will be in touch with information over the coming few weeks.
Café price list – We have asked our council catering team for an electronic menu list to help families. We use a white board next to our café q's which is updated daily for the pupils. Attached is a list which hopefully helps give a broad idea of items and prices, also attached is the 4 week plan the Council follow. Next Monday is week 1 on the rotation.
Police info for Parents – Please find attached a letter and advice regarding young people and social media group use. Discussions at home can help promote sensible and safe device use.
Annual flu vaccine – See attached a letter from NHS partners on the annual flu vaccine program. We will keep all updated with specific dates and times linked to Leith Academy.
House Cup competition begins! We kicked off the house points this year with Inter House Volleyball, a great day with all players doing well on our outdoor volleyball courts in the sun. Well done to all who took part and got points for their house……Barton were the winners on this occasion!
MVP Training – We have been part of the MVP program for some years Mentors in Violence Prevention (MVP) – An overview | Resources | Education Scotland . Senior pupils get training on how to support and de-escalate issues they may come across in society. Our training began this week with over 30 volunteers, they will be in S1/2 classes delivering sessions to younger peers over the coming weeks. Thanks to Ms Simpson and Ms Ghuman for leading on this.
After School Clubs – We are working on pulling together our clubs, these can include all areas such as sport, arts, engineering and personal interest. Some hot off the press clubs and dates are below, full listings with all sports included coming soon;
| | | | |
| --- | --- | --- | --- |
| Name | Dept? | Club? | Day and time |
| Mr Connor | Mr Connor office | Model United Nations – Debating | Monday lunch time |
| Mr Jackson | Eng/ML | Volleyball Club | Tuesdays 15:30 to 16:30 |
| Ms Ponte | Music room2 | Choir | Wed lunch & Thu after school |
| Ms Orr | Home Economics | Practical cooking club | Monday 15.30-17.30 |
| Mr Williams | Mathematics | Chess | Tuesday lunchtime |
| Mr Gallacher | Art & Design | Art Club | Tuesday Lunchtime 12.50 -1.20 |
| Ms Pereira | Drama | S1 Drama Club | Details to come soon |
….more to follow soon.
Girls Football – We have had an initial meeting with a group of young players interested in being involved in the newly formed Edinburgh league. If any Parents are interested in supporting us with this, please contact Steven Moffat on Steven.Moffat@leith.edin.sch.uk .
SQA Exam Timetable 2024 – The SQA have issued the dates of the National Assessments for next year. The year goes by fast for S4,5,6 so it's important to make the most of every lesson / support session.
Pupils / Families should download the app to help with planning and information sharing.
The link to the website is here Scottish Qualifications Authority – SQA .
Challenging discrimination – This week we had guest speakers Zander Murray and Graeme Lea-Ross come to Leith to give a workshop on inclusion in society / football. Graeme and Zander discussed the importance of making football a sport in which everyone feels safe and welcome. The workshop looked at current LGBTQ role models in football followed by a Q&A session with Zander. Well done to our School of Football team for their fantastic contributions! Thanks to Ms Kelman and Mr Moffat pulling this together, see pic below;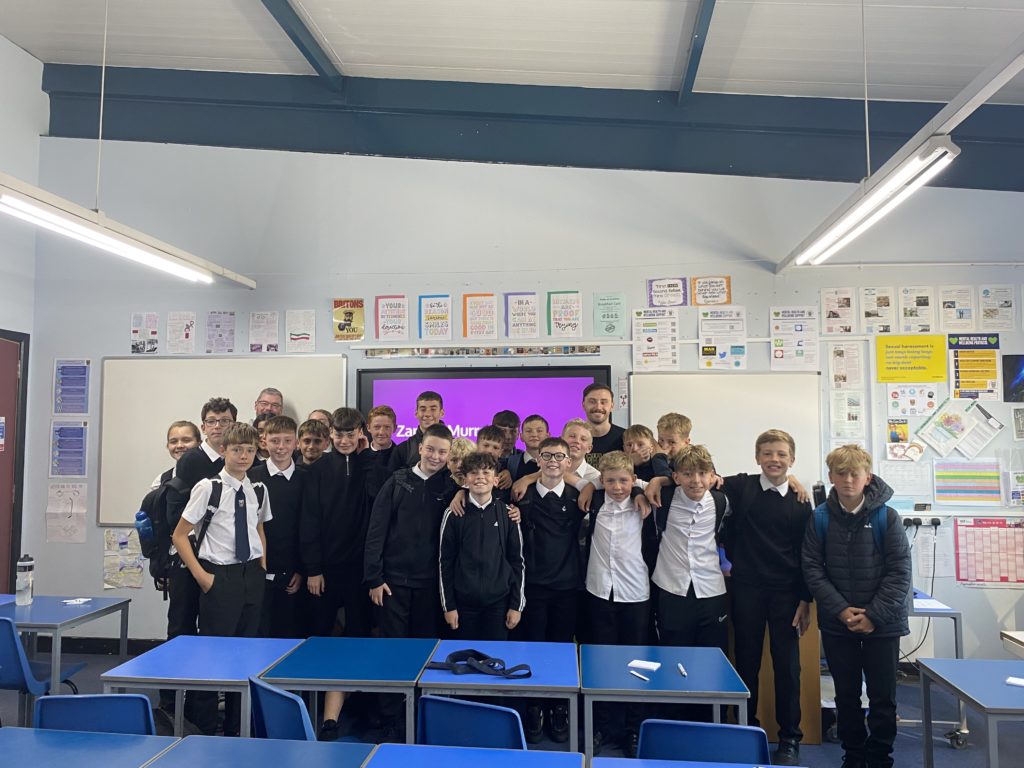 We hope you have a good weekend from all at Leith Academy.