Website
Our website handover is complete. We will go one step at a time….. www.leith.edin.sch.uk
My Parent version 'post' of Head's News will be available….. https://leithacademy.uk/heads-news-8-nov-2019/
Remembrance
Thank you to Rev May, the Prefects and all involved in pulling together this historic act we have done for many years at Leith next to our war memorials at the front of the School.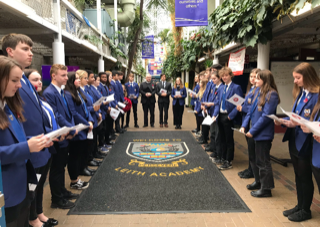 Truancy calls
We will be moving to an afternoon truancy call for Parents over the coming weeks. At present this happens in the morning only. Essentially Parents will receive a text message if their child is 'tbc' when they should be in School.
We will keep Parents Pupils and Staff updated as we put this change in place over the coming weeks. In the meantime, please ensure your registers are taken on SEEMIS for all classes.
Real Life Learning
Some of our Pupils in S3/4/5 went for a week of learning with the Fire Service…..the feedback was very positive from both ends!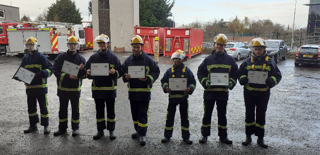 Parents' Eve
Thank you for attending another successful evening last Thursday. The feedback was as ever aspirational but realistic in trying to help young people achieve the best they can with our support and the support of their families.
Children in Need!
Well done to our pupils who featured in the Scottish choir across the uk on TV (Friday night). The event was a real 'lights camera action!' moment as they went live with Jackie Bird and the other crew members. Thank you to all who helped pull this together.