Our first full week is complete and it has been another successful and busy one as we continue to get back into a familiar and consistent routine.
Numbers of Covid positives across Scotland are clearly something to be aware of, with that in mind we must all do what we can collectively;
-Wear a covering when inside
-Hand san on arrival and in classes
-Where possible keep 2m distance from Adults and others
-Break and Lunch remain outside to 'avoid large gatherings'
-Use the home test kits x 2 per week and record results
Key points;
School Uniform – this must now be worn to School. If a youngster has PE they will get changed using the dressing rooms in PE. Our uniform is kept simple for Parents;
-Leith Academy dark blue tie
-White shirt
-Black trousers / skirt
-Black footwear
-If a jumper is needed, this should be black. Please note hooded tops are not permitted in Science and Craft/Design workshops due to Health & Safety regulations
Uniform support is available here Free school meals, milk and school clothing grants – The City of Edinburgh Council .
Start times moving forward – We are moving to a simple plan of S1-3 use the front door, S4-6 use the side door. Both arrive for no earlier than 8.25am.
16/17yrs Vaccination – Please see a poster below from Public Health Scotland to be discussed at home if possible.
Flu vaccine – For the first time this year, the flu vaccine will be offered to Secondary pupils in School. This has happened in Primary Schools for many years. We have been asked to share the following link for info www.nhsinform.scot/flu . Further info from Leith will be issued nearer the time.
Mobile Phones – As mentioned last week, we are refreshing our mobile phone policy to help support youngsters concentrate and focus on their learning in the classroom. Devices are an important part of society these days, but we want to encourage a 'right time right place' approach.
We have created a presentation for Pupils which was talked through today (Friday) by our staff teams, it can be found here Mobile Phone & GDPR Policy – (leithacademy.uk) . We will keep in touch with Families if we need help to support these steps in a positive way.
Climate Change – The City of Edinburgh has a net zero target of 2030. We are supporting this with a competition being led by our Art Team, see below the poster designed by one of our youngsters in S4, Iola Stoddart.
Parent Council – We have our first Parent Council meeting of the year next week (Thursday). Laura Brown, PC Chair will send out details on the Microsoft Teams link during next week. These are always positive and supportive sessions where we work together to improve outcomes for our young people.
Lights Camera Action! – UK Parliament Week
Leith Academy pupils have been working with UK Parliament to record footage for UK Parliament week in November. S1 pupils have been planting chilli seeds over the summer to mimic the effort which must be put into a political campaign. Any campaign needs to first sew the seed, nurture and watch a campaign grow and then see the fruits of their labour bloom. The S1 seem to have been successful in growing their democra-seeds!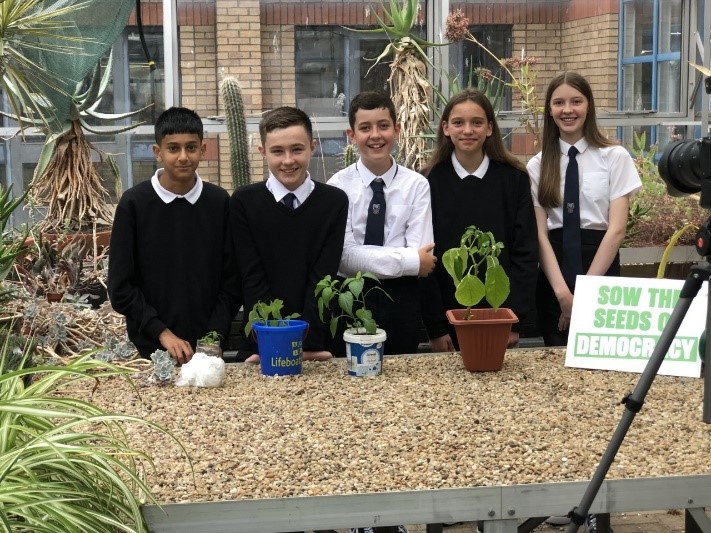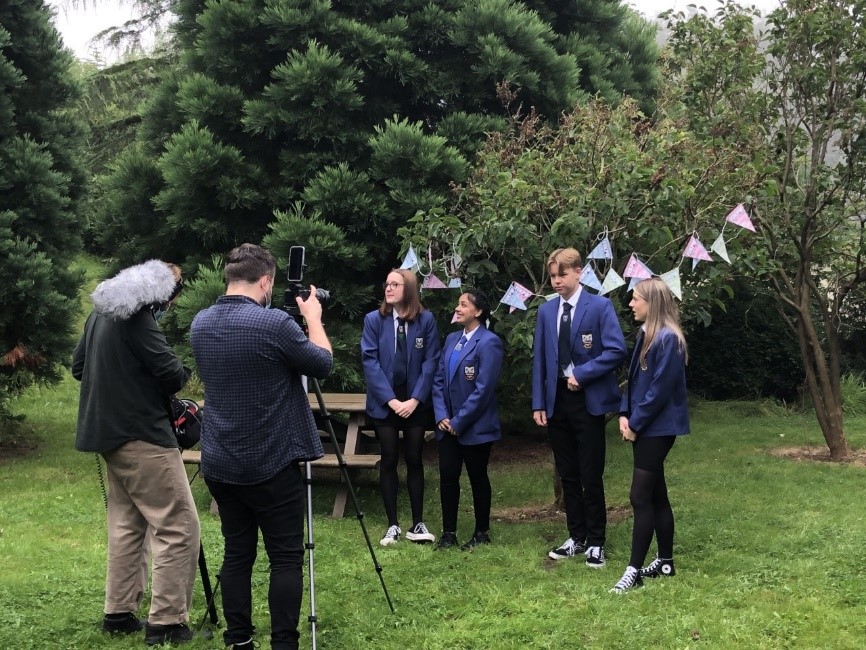 Senior pupils have given their opinions about why it is important to ensure that their voice is heard and why all young people should participate in politics. We look forward to hearing more from them at the launch of UK Parliament Week in November.
We hope you have a good weekend from all at Leith Academy.