Well done on week 1 of the summer term, great to see everyone back and we hope you had a nice break. It's the May Day weekend with Monday a holiday and Tuesday In Service for staff only (exams are still on as scheduled).
Key points:
Covid – Things are moving in terms of restrictions being eased. We'll continue to apply 'covid sense' where required. A letter from Prof Jason Leitch has just been sent to all Head Teachers and is attached / below. All of our required Risk Assessments have been updated and can be found here .
Be Prepared – Thank you to Parents for the work on moving us beyond covid adaptations and into our normal / usual school uniform. We will continue to support those who need help with coming to school in;
White shirt, Leith tie, Black trousers / skirt, Black jumper (if needed), Black footwear
We will contact Parents if we need support with this. The pupils have looked very positive and ready for work on their return.
Sports personality of the Year 2022 Leith Academy – Congratulations to some of our top Sports People who have made the shortlist for SPOTY 2022 at Leith Academy. Voting is underway (School pupils and staff). See shortlist and action shots attached / below…..
Our Extra Curricular offer is fantastic to help youngsters get involved in summer sports. See below…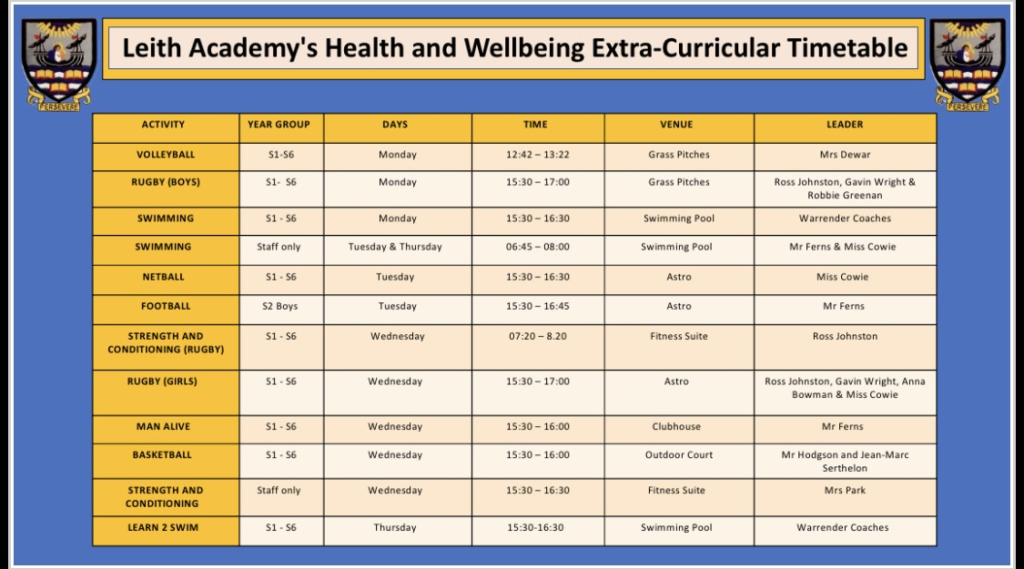 Exam support – The National assessments are now well underway and we continue to wish all youngsters well in gaining the best outcomes they can. It can be a time where support is important, see below some advice and info for Parents (designed by Parentzone) to help Supporting study | Learning at home | Parent Zone (education.gov.scot) .
S3 Assessment support – Please see an update from Ms Watson (Depute HT)
As usual at this time of year (pre Covid) we are slotting an S3 'Hall experience' in to the exam diet. This allows the S3 pupils to experience how a prelim/exam runs and helps with early literacy and numeracy evidence. Fitting around the current exams we will run the S3 assessments:
Tuesday 24th May, P5&6 – Maths/Numeracy
Tuesday 31st May, P3&4 – English/Literacy
The Maths and English teams will speak to their S3 classes in the run up to this explaining the processes involved. We (pupils and staff) have found this is a huge benefit to enable our S4 prelims to run smoothly, start on time and it helps take away some of the nerves around how it all works as they enter the Senior Phase S4,5,6.
Lights Camera Action! – We are an International Festival venue this year. See a video of our pupils interviewing the Grid Iron Team Grid Iron Theatre Company – Multi-award winning theatre company who will be bringing Muster Station : Leith to the Festival
The video is HERE! https://clickv.ie/w/YcDs
HPV – The NHS, HPV immunisation programme will take place on Monday & Tuesday 9th/10th May 2022 for those who have returned their consent forms. This will involve both boys and girls in S1 (1st dose) and S2&S3 (2nd Dose) It will also include any girls in S4-S6 who have not started/completed the course. Our NHS colleagues will support throughout.
Sustainability / Planting – See note from Ms Thompson (Art) COP26 was delivered in Glasgow in October last year. In response, the Eco group and two S3 classes showed their commitment to improving the environment for wildlife by planting sapling trees from the Woodland Trust at the back of our school. Members of the Eco group were taught how to properly plant them to form a hedge at the Falkland Estate, Fife and were able to pass on these skills at school. The new hedge will offer flowers, fruit and a home for insects and small birds like robins, wrens and bluetits in the future. Four hundred and twenty: Oak, Hawthorn, Rowan, Blackthorn, Hazel and Birch saplings have been planted and should form a long-lasting legacy of our pupil's commitment. Well done to all involved!
Have a great long weekend and we will see pupils on Wednesday next week.